Some of my favorite fabulous blogging gals have started a new linky - and today's the big day for the first linkup!
Rachel
,
Niki
(who I'm sponsoring for September!),
Kristen
, and
Carly
are responsible for the inauguration of this awesome linkup where you talk about whatever it is you've been loving up on lately. Fashion, interior design, caffeinated beverages (a personal favorite of mine) or just whatever takes your fancy.
So, let's get down to it, shall we?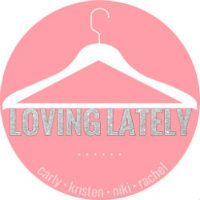 I never thought I'd be the girl to say this, because there are some instances in which I just can't STAND gold jewelry, but lately I've been feeling the love for....
Gold jewelry! On my recent trip to the Mall of America I picked up a couple gold pieces, and just today I spied

this killer deal

on Very Jane and snatched up one of those babies quick. I don't know what changed, but I've been feeling more warm about gold jewelry. And leopard print, too. I think the blog world is ninja-ing my mind. Seems like the most logical explanation.
But come on, how cute is that statement necklace? And those Chanel earrings?! Not only do they feature the precious stone, but the crimson makes it Gryffindor-tastic - something this Potter head can't help but love.
So, that's it. My lately love. Who knows what I'll have next week? I'm thinking some of my fashion faves that are actually IN my closet! To give you a little taste of my personal style and not just my imaginary personal style ;).
What are you waiting for? Go link up! And have a rockin' Tuesday. Spread some love.
Oh, and if you're feeling extra love-y today, my comic book heels DIY is up for vote over at Lulu and Sweet Pea for favorite Pinterest Project of the month! I'd love for you to vote for me!
I might even be planning to offer a pair in a giveaway sometime in September. Shhh.